Thread Rating:
05-21-2013, 11:30 PM,
(This post was last modified: 05-21-2013, 11:33 PM by OBWHON.)
OBWHON
TNTFV

Posts: 1,224
Threads: 138
Joined: Jan 2009
Can my dog swim???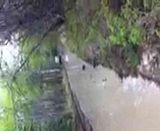 May long weekend camping and riding. Some of the trail proved interesting to say the least. And yup, the dog can swim
double click the picture
95 Suzuki Sidekick, 4" lift on 32"s. Spooled Rear. Superwinch. Choose a road wisely!! Wide the road that leads to destruction and many will choose it. Narrow the road that leads to life, but few will find it. Math.7:13-14
05-22-2013, 10:23 AM,
little green
TNT FV R.I.P.

Posts: 908
Threads: 76
Joined: May 2007
RE: Can my dog swim???
Maybe if you weight him more...lol
"MAINTAINING BACK COUNTRY TRAILS & SITES FOR THE NEXT GENERATION"
 "The Recluse".. Black 95 Sidekick 4" lift,MT's,Warn winch. Spool & 150% low reduction in progress
05-23-2013, 04:50 PM,
JeepFreak
Lost & don't care!


Posts: 264
Threads: 47
Joined: May 2011
RE: Can my dog swim???
lol, that's one way to get him into the water!
JEEP... an amazing blend of adventurers without limits, a willing ness to help without want and a mutual respect shown by a wave. People who become more than friends, they and peers and influences and we call them family. There is a bond through or stories, laughs, and tears. I live, I ride. I am!!   O lllllll O